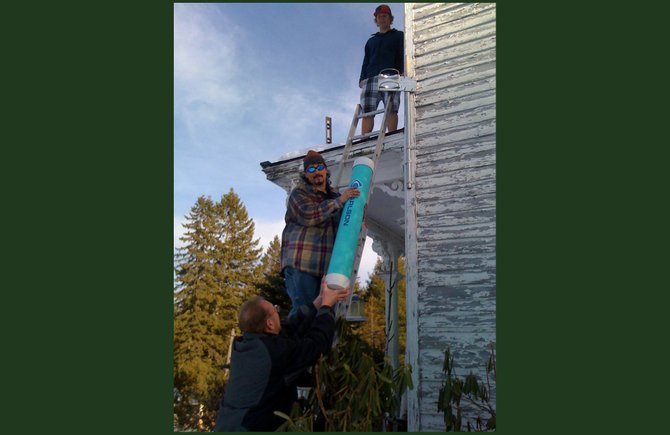 Workers for Rainmaker Network Services install a 'white space' broadband receiver on a Thurman home as a part of a test effort in early 2013 preceding design of a network of transmitters over the countryside to bring reliable high-speed Internet access to the rural, hilly town. The system is now ready to be constructed, and initial tests indicated strong signals in the service area of the project's first phase. Two recent demonstrations have shown potential subscribers blazing fast upload and download speeds over a bandwidth that can accommodate various devices and operations simultaneously. A public demonstration of the broadband is set for 7 p.m. Tuesday Jan. 14 at the Thurman Town Hall. Thurman Supervisor Evelyn Wood, one of the two people who launched Thurman's nationally acclaimed 'white space' broadband access project, has estimated that 80 to 90 Thurman homes could have 'white space' Internet access before fall 2014 — completing the first phase of an ongoing project to bring broadband to most of the unserved areas of town.
Stories this photo appears in:

While a handful of Thurman residents have seen 'white space' broadband's blazing-fast downloads and how it can accomplish various Internet tasks simultaneously, a number of local citizens continue to claim it will be slow, will stall, and suffer interruptions. In respponse, the town board and the network engineer constructing Thurman's acclaimed broadband access system will be conducting a demonstration of the technology at 7 p.m. Tuesday Jan. 14 in the Thurman Town Hall.