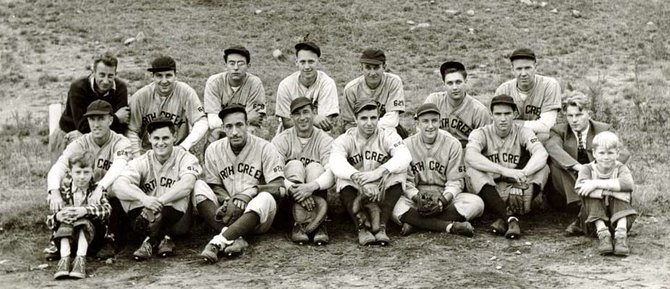 Pictured is the North Creek American Legion Team (circa Post WWII 1940's). Top Row (L to R), Manager John Mcardle, George Minder, Phil Hitchcock, Downing Braley, Howard Hitchcock, Earl Stewart, Walt Scultz. Bottom Row (L to R), Jim Jordan, Jimmy Yandon, Chuck Severance, Bob Foote, Joe Howard, Bill Durkin, Ned Goodman, Rudy Goodspeed. Children, Phil Brassell, in front of Jim Jordan, Billy Lackey, in front of Rudy Goodspeed.
Stories this photo appears in:

A lively history of baseball in the town of Johnsburg is the topic at Wevertown Community Center on Monday, Feb. 17 at 2 p.m.