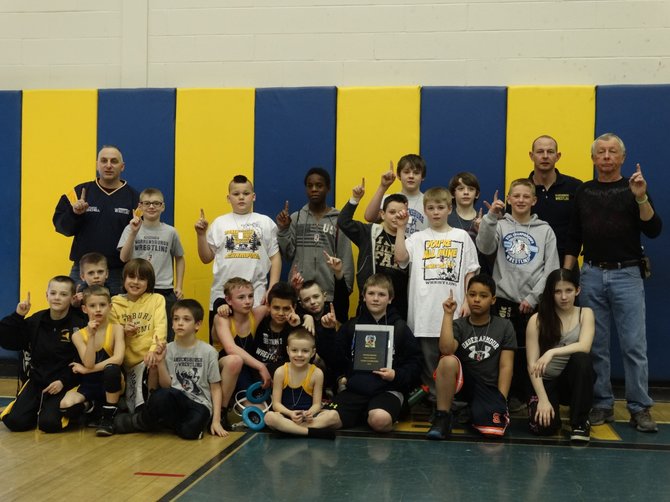 Members of the Warrensburg Youth Wrestling Club — and their coaches — celebrate their victory shortly after winning the championship of the Warrensburg Duals meet March 17, defeating far-larger schools. The young Burgher wrestlers have achieved an 8-0 duals meet record this year, and a half dozen of them are now competing in top-level tournaments across the northeastern U.S. The wrestling team includes (not in any order): Kalijah Duell, Cameron Carpenter, Zack Olden, Robert Smith, Tanner McKenna, Dylan Winchell, Kellen Duell, J.J. Giron, Zach Carpenter, Zach Shambo, Jason Lapelle, Landon Templeton, Hunter McKenna, Jackson Corveau, Sierra Simpson, Jesse Griffen, Giron Griffen, Tristen Hitchcock, Justin Hoffman and Kayden Allen. Coaches include Scott McKenna, Brian Winchell, Lenny Baker, Mark Trapasso, and Dan McNeill.
Courtesy photo
Stories this photo appears in:
Future promising for high school wrestling program
Young Warrensburg-area wrestlers have won up to 100 and more individual matches, including competition in regional and national tournaments — an unprecedented record of accomplishment in the area.