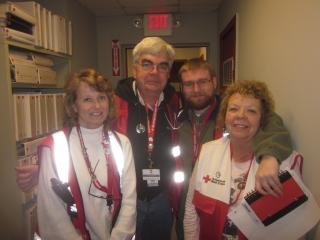 Bob Fitzgerald, (center, white hair) with other Red Cross volunteers at the Hurricane Sandy deployment in New Jersey.
Stories this photo appears in:

Red Cross volunteer has seen numerous disaster deployments
When disasters happen, Rouses Point's Bob Fitzgerald is likely to get the call. Fitzgerald is a member of the Red Cross's Disaster Action Team, and responds to emergencies for anything from a local fire displacing a family, to a national tragedy like a hurricane. Since he started with the Red Cross in 2005, Fitzgerald has deployed as part of the response to Hurricanes Katrina, Irene and Sandy, as well as the recent Lake Champlain flooding locally.