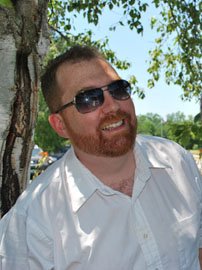 WOKO morning DJ Wild Bill Sargent
Stories this photo appears in:
The Clinton County Veterans' Service Agency knows who to call when they need a hand: Wild Bill Sargent and WOKO 98.9-FM. On Wednesday, Sept. 11, Sargent will be climbing the stairs to the top of the 135-foot Macdonough Monument in downtown Plattsburgh for an on-air fundraiser, along with his Morning Roundup radio show, to raise money for a new van for the Disabled American Veterans of Clinton and Essex Counties. He's not coming down until his country music listeners donate enough money to buy the van.