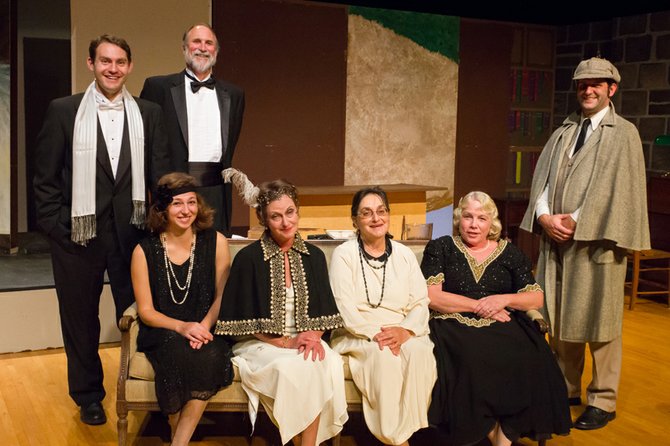 Members of the Our Town Theatre Group's cast of "Postmortem" — a mystery thriller by Ken Ludwig — get ready to rehearse. From left are Dan Studnicky (Bobby), Hannah Jay (May), Dennis Wilson (Leo), Judy Stafford (Louise), Maryann Sauro (Aunt Lilly), Barbara Westbrook (Marion), and Eric D. Potter (William Gillette). The play will be performed in the Lyle Dye Auditorium at Tannery Pond Community Center on Friday, Oct. 18 and Saturday, Oct. 19 at 7:30 p.m. and Sunday, Oct. 20 at 1:30 p.m. Tickets are $12 for adults and $8 for students through grade 12. To order tickets, call (518) 406-8840 or email the ticket order to OTTGTickets@gmail.com.
Stories this photo appears in:

Members of the Our Town Theatre Group (OTTG) will be performing a mystery thriller this weekend featuring an eccentric actor and a séance in a Connecticut castle during "Postmortem," a play by Ken Ludwig.