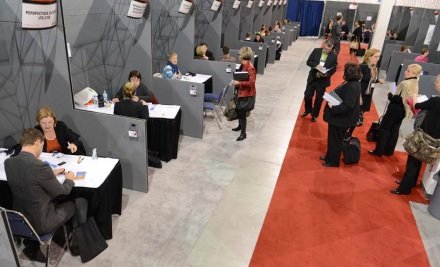 During the recent Bienvenue Quebec convention in Saguenay Quebec, dozens of tourism representatives and bus tour operators were matched up in rotating 10-minute sessions — like in 'speed dating' — to promote visits to various destinations. Tanya Brand of the Warren County Tourism Department participated in the convention, in an ongoing effort to boost international tourism in Warren County. Meanwhile, officials of the Lake George Chamber of Commerce manned a booth at the International Travel & Tourism Show in Montreal, where about 25,000 people passed by their display.
Stories this photo appears in:

Just driving through Lake George one can see how important Canadian tourism is to the region — by looking at the number of Canadian flags are flying above motels and restaurants. Area tourism officials, however, are ramping up their efforts to pursuade Canadians to visit Warren County.