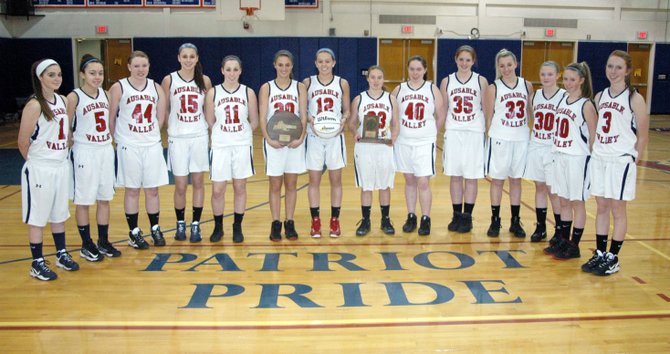 The Section VII/Class C and Region II Class C champion AuSable Valley Patriots. From left: Meghan Strong, Taylor Saltus, Bryce Douglass, Madison Rondeau, Logan Snow, Sierra Snow, Haley Taylor, Vanessa Garrow, Nicole SantaMaria, Shelby Bourgeois, Sydney Snow, Madison McCabe, Jeanna Manning and Rachel Knapp.
Stories this photo appears in:

AuSable Valley takes on Bishop Kearney
Join the Valley News' Keith Lobdell as he calls today's New York State Public High School Athletic Association Class C state semifinal game between the AuSable Valley Lady Patriots and Bishop Kearney Knights. The webcast will start at 2 p.m.

Members of the AuSable Valley Lady Patriots, who are playing in the NYSPHSAA Class C Final Four against Bishop Kearney Saturday, March 16, at 2:15 p.m.

Indeed, that includes the Lady Patriots (19-2), who proved just how good they were when they scored a 48-43 victory over top-ranked and defending state champion Hoosic Valley March 9.