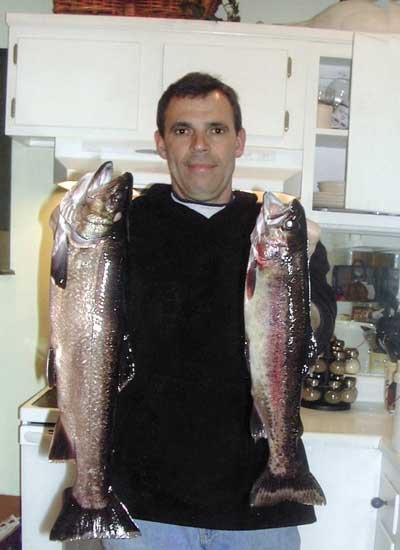 In July of 1915, Dr. CW Cook caught the 14.5 pound World Record brook trout from the Nipigon River in Ontario, Canada. The river is a tributary of Lake Superior. The big fish was considered a 'coaster', a particularly large species of brook trout that is spawned in the rivers and spends its life feeding itnthe large lakes.
Similarly, 'salters' are brook trout, browns and rainbows that spawn in freshwater tidal estuaries but return to a saltwater environment for most of their lives.
Salters are known to exist on many of Long Island's estuary streams, as well as the streams and rivers of the New England states.
The brook trout (L) and rainbow trout (R) pictured were taken on a Long Island stream in 2008. The brook trout measured 25 inches in length, and weighed an estimated 7 lbs. It would have easily claimed the NYS Brook Trout Record. However the angler never submitted it for consideration because he ate it!