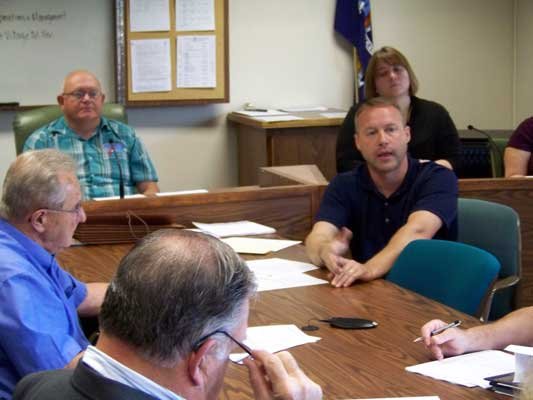 Warren County Public Works Superintendent Jeff Tennyson (right) warns Warren County supervisors Monday, July 29 about how dozens of roadways throughout Warren County need repair due to potholes and rutted pavement. He and others have voiced warnings for years about deteriorating roads, while municipal leaders have slashed highway repair appropriations in order to balance their budgets. For the first time in many years, the state legislature has budgeted a substantial increase in aid to local municipalities for road and infrastructure repair. Municipal engineers have said that the state's roadways, due to recent years' budget cuts, have been deteriorating at an ever-faster rate and may require massive amounts of taxpayer money to restore them to historic standards. County supervisors voted Monday to have three short stretches of roadway resurfaced, leaving dozens of more recommended highway resurfacing projects left to tackle in the future.
Stories this photo appears in:

State and regional highway officials have for years warned about how cutting funds for infrastructure upkeep would lead to deterioration of roads that would cost the taxpayer plenty more later — and Warren County officials heard this week about the lengthy list of road reconstruction now needed due to funding cutbacks that began during the economic recession.