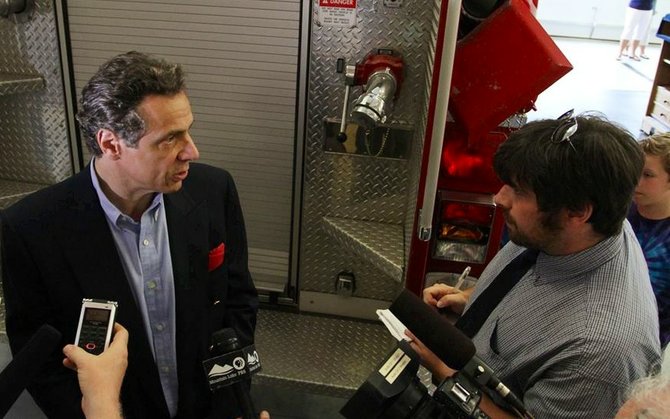 At a recent public appearance in Keene, Gov. Andrew Cuomo (left answers a question from area journalist Jon Alexander of Warrensburg (right) concerning how the government needs to beef up the strength and capacity of its roads and bridges to accommodate more frequent violent weather incidents. The interview was conducted following a ribbon cutting for the new Keene Firehouse, a replacement for the building washed away in 2011 by Tropical Storm Irene. Alexander was among the first to question public works officials on the issue of climate change, violent weather and its effect on public infrastructure engineering.
Stories this photo appears in:

Area journalist Jon Alexander of Warrensburg, who launched his news-reporting career with Denton Publications and has since brought many vital issues to public attention, is headed for Idaho to advance his career — and undoubtedly enjoy hunting and fishing in the Rocky Mountains.