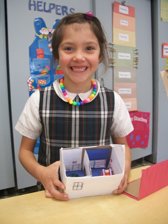 Stevie Sprouse, a St. Mary's School first grade student, shows the model of the Mineville-Witherbee fire house she constructed as part of a class project.
Stories this photo appears in:

Models on display at Ti chamber
What are the most important places in the community? That was the question posed to St. Mary's School, Ticonderoga, first grade students recently as part of a social studies project.