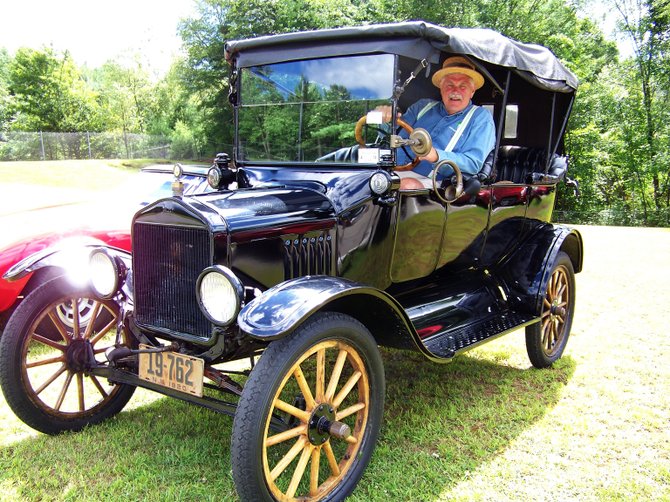 Don Butler of the Tri-Lakes Business Alliance poses in his 1920 Model T, which is to be featured in several of the events planned for Rum Runners Weekend, which the Alliance is planning for September 13 through 15 in Chestertown and Pottersville. The festival is to showcase northern Warren County's role as a stopover during Prohibition for smugglers transporting rum to Manhattan from Canada. The weekend includes a staged rum-runner car chase, a burlesque/vaudeville show, silent movies at the historic Carol Theater, a batting contest and a speakeasy costume ball at the Panther Mountain Inn.
Stories this photo appears in:

This weekend's Rum-Runners' Weekend celebrates the exploits of the Roaring Twenties, while drawing attention to the Prohibition-era heritage of local communities. Historians say that rum-runners stopped over in Pottersville and Chestertown when they were smuggling alcoholic beverages into the U.S. from Canada — transporting them down Rte. 9, the main route to New York City.

The Roaring 1920s featured speakeasies, flapper girls, and the popularization of the first automobiles. The Rum-Runners Weekend planned for next month in Chestertown celebrates the style and spirit of the era.