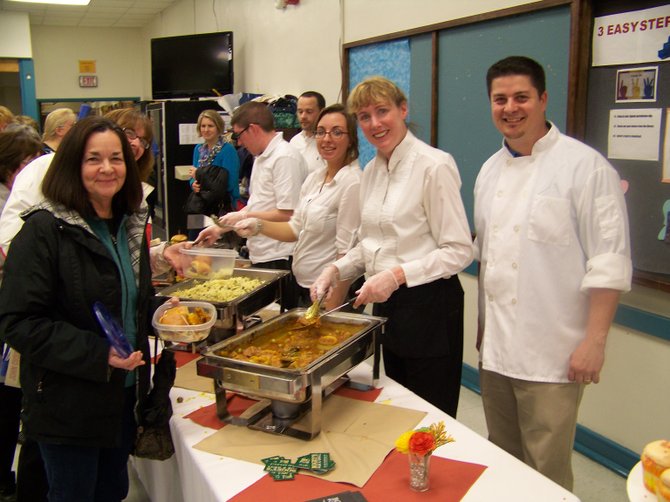 Bogey's Pub & Grill proprietor Deric Buck (right) presides over his employees including:Angela Hooper and Loretta Shaw (center, left to right) as they serve up couscous and Moroccan Chicken to people attending the Rachael Ray Show Saturday Aug. 12 in Lake George. Television celebrity cook and talk show host Rachael Ray introduced Buck to the crowd, praising his cooking and catering skills. Buck is proprietor — along with his mother Faith Buck — of Bogey's Pub & Grill as well as Bay Meadows Golf Center where the eatery is located, at 31 Cronin Road in Queensbury.

Stories this photo appears in:

In her annual visit to Lake George, television star Rachael Ray praised the cooking of chef Deric Buck — proprietor of Bogey's Pub & Grill of Queensbury — as well as the products of other local businesses. Buck catered the event, which drew a capacity crowd of 525 to the Lake George High School auditorium opn Saturday April 12. Bogey's is located at Bay Meadows Golf Center on Cronin Rd. in Queensbury.