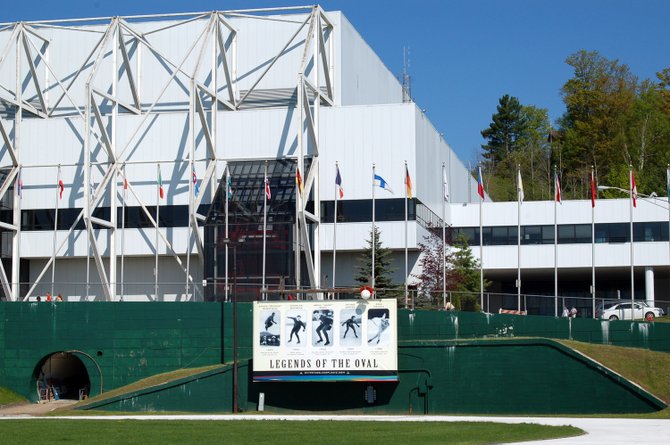 The Lake Placid Olympic Center
Stories this photo appears in:

The Herb Brooks Arena will welcome some of the best college hockey teams in the nation in their first step toward the Division I national championships this weekend.

In the past week, the Olympic Regional Development Authority has announced the signing of two new hosting contracts for the National Collegiate Athletic Associations (NCAA) Division III hockey championships and the Division I skiing title meets.

The Philadelphia Flyers will host a team "bonding camp" starting Thursday, Sept. 19, at the home of the 1932 and 1980 Olympic Winter Games.

The Apostolic Nuncio to the United States for the Roman Catholic Church will be in Lake Placid at the end of this month to lead a special mass.

The 2013 summer skating series continues this weekend, Aug. 16 and 17, with Friday's Freaky Friday and the Saturday Night Ice Show at the Olympic Center, in Lake Placid.

The Lake Placid Hall of Fame Committee is seeking suggestions from residents of the Olympic region regarding possible nominations for 2013.

While the annual ski jumping event, part of the Art Devlin Cup series, will be held on Saturday and Sunday, Oct. 6 and 7 at the Olympic Ski Jumping Complex, the first-ever Lake Placid Brew Fest will take place Oct. 6 from 3 to 7 p.m. at the 1932 rink.

The Olympic Regional Development Authority (ORDA) has added two new members to its board.