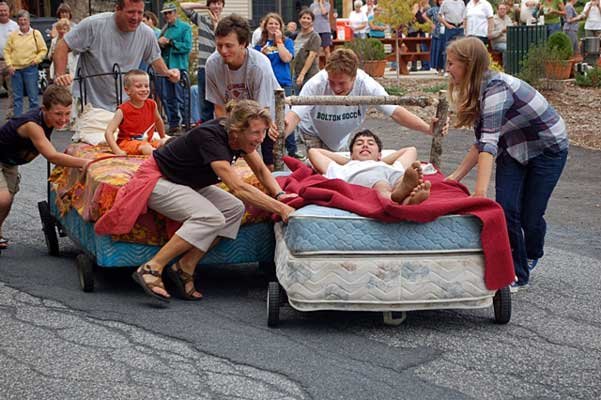 Competing teams in the bed races held at the 2011 Bolton Harvest Festival collide on their way to the finish line. The beloved tradition of the zany competition was revived last year, capturing the spirit of the great Bolton Bed Races held in the early 1980s that attracted many thousands to town. The 2012 bolton Harvest Festival is to be held Sept. 22 with plenty of family friendly activities, and the bed races are to begin at 4 p.m.
Stories this photo appears in:

It's that time again. The Plattsburgh Rotary Club is holding its annual bed race as part of the 2013 Battle of Plattsburgh Commemorative Weekend. The Bed Race event is being held on Sept. 14 at City Hall Place in downtown Plattsburgh. The races begin at 3:15 p.m. and will continue until the fastest bed crosses the finish line.