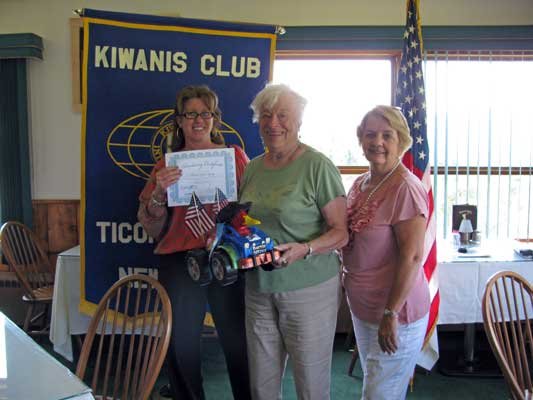 On Thursday, August 23 the Ticonderoga Kiwanis Club awarded the prizes to the winners of the 2012 Decoy Duck Decorating Contest. Each year Kiwanis sells decoy ducks to downtown businesses to decorate according to that year's theme. The decorated ducks are judged and awarded prizes according to their theme, costume and originality. This year the theme was CARS.
The winners of the contest this year are The Martin Agencies, who won a 1/2 page ad in the Times of Ti. Second place winner was Emerald's Restaurant, who won a 1/4 page ad in the Times of Ti. The third place winner was the Community Bank, who won an 1/8 page ad in the Times of Ti.
Pictured below with their winning decoy duck, along with Scarlette Merfeld, are Joyce Barker and Darlene Dorsett from The Martin Agencies.