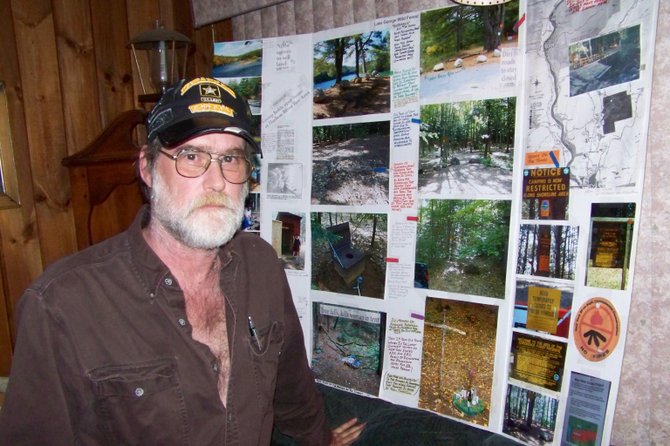 Armed with posters, visual aids, videos and documents, Ted Galusha of Warrensburg was headed for local town Court Wednesday morning Oct. 10 to continue his fight to open up access to Adirondack woodlands. Ticketed this summer for driving a vehicle a matter of only yards into an camping area that he believes was illegally blocked off, he's ready to go to jail to promote his cause. In 2001, Galusha won a federal lawsuit that was settled in an agreement that forced the state to open up over 100 miles of roads they closed and make $4.8 million in improvements to recreational areas to improve access for the disabled.
Stories this photo appears in:

Vows he'll go to jail to prompt state to live up to legal mandates
A Warrensburg man's frustration over receiving a minor ticket in 1995 for driving to a campsite ended up in a landmark 2001 federal court settlement requiring the state to provide access to recreational woodland areas for citizens with disablities. Faced with another minor ticket, Galusha says the state hasn't followed through on the mandates, and he's willing to go to jail over the issue.