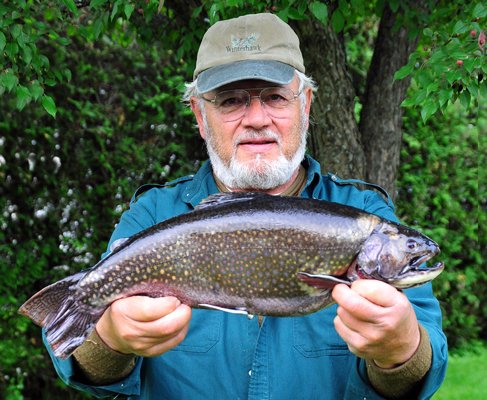 A brook trout weighing 5.85 pounds has been certified by the Warrensburg DEC office, breaking Daniel Germain's record caught in South Lake in June of 2011 by one ounce. The previous record was a 5 pound, 4-1/2 ounce brookie taken from Racquette Lake on June 7, 2009 by Tom Yacovella, pictured above.

Stories this photo appears in:

H2O Adventures
Spring has arrived in the North Country, trees are leafing, daffodils are blooming and that means it's spawning time on Lake Champlain.

Notes from the North Woods
In 1624, a Jesuit priest traveling through the Dismal Wilderness of the Adirondack region claimed his experience with the demons of the north was, "The worst martyrdom I have ever suffered in this country."