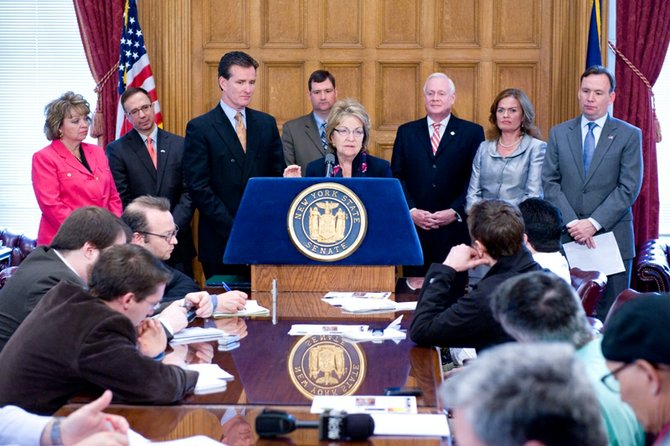 State Sen. Betty Little talks of the dangers associated with synthetic marijuana and so-called 'bath salts' during an April 30 press conference held hours before the state Senate passed a measure banning the substances. State legislators and others backing up Little in her crusade are (left to right) Sen. Patricia Ritchie (R-Watertown), Sen. Joe Griffo (R-Rome), Sen. John Flanagan (R-Smithtown), Adirondack regional BOCES Superintendent James Dexter, , Sen. Marty Golden (R-Brooklyn), Warren County District Attorney Kate Hogan, and Assemblyman Michael Cusick (D-Staten Island).
Stories this photo appears in:

Synthetic marijuana, which prompts delusions, violent behavior, suicide attempts, convulsions and various health problems, has been a spiraling problem with area youth. But April 30, the state Senate passed a bill criminalizing the use, distribution or possession of the substance, along with so-called 'bath salts' which mimic methamphetamine. Now it's up to the stae Assembly to join the movement towards curbing the use of the substances.