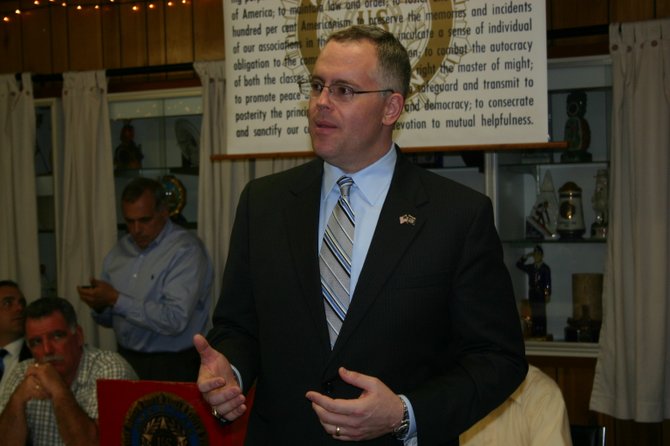 Queensbury Supervisor Dan Stec tells the 100-plus members of the Warren County Republican Committee Thursday March 22 about how he'd fight unfunded state mandates, work to cut government excesses and advocate for Adirondackers' interests if elected to the state Assembly. Minutes after Doug Hoffman surprised the gathering with his announcement of withdrawal, the county committee voted to endorse Stec — with at least 67 percent of the ballots cast in his favor.
Stories this photo appears in:

On Tuesday, Robert Regan dropped out of the race to represent New York State's 114 Assembly District in Albany. Regan endorsed Queensbury Supervisor Dan Stec, clearing the field for Stec, who is now unchallenged for the Republican Party's nod.

While many thought there would be a protracted tussle between Essex and Warren County factions of the Republican party over who'd be their endorsed candidate, Doug Hoffman of lake Placid announced a jaw-dropper Thursday March 22 in front of assembled Warren County G.O.P. committee members soon after he made a pitch for his candidacy.