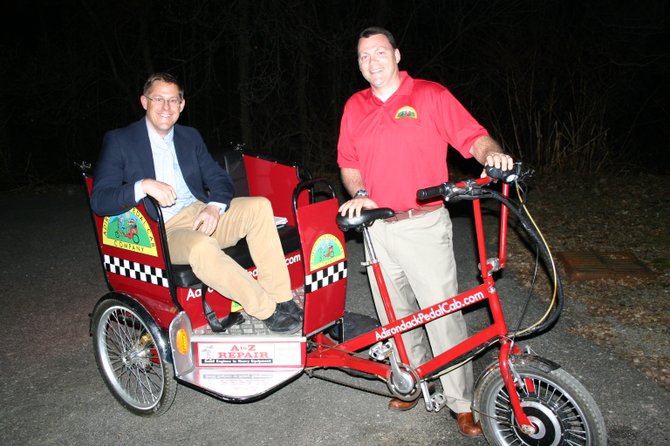 Steve Tomb (left) and Mike Smith, proprietors of the Adirondack Pedal Cab Co., pose in one of their their bicycle-powered rickshaws soon after presenting details Monday March 19 of their proposed service to the Lake George Village Board. The two plan to have 10 to 20 of their pedalcabs circulating in Lake George as soon as this summer, transporting tourists to various destinations in exchange for donations.
Stories this photo appears in:

Renowned for its love affair with automobiles, Lake George's carbon footprint may shrink a little starting this year, after a fleet of pedal-powered rickshaws start offering rides through the village to various accommodations, events and attractions. Adirondack Pedal Cab Service is planning to offer the service in exchange for voluntary donations -- people are to pay merely what they want, say the pedalcab entrepreneurs.