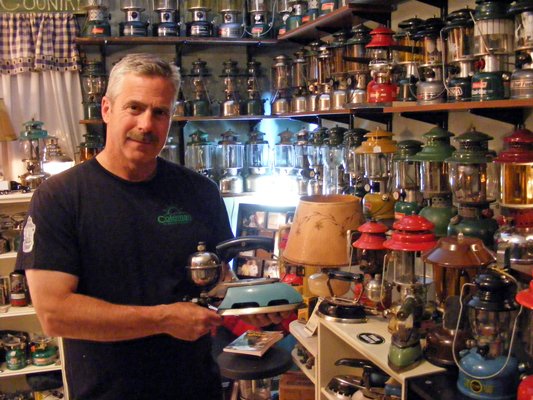 Stephen Miller of Queensbury, a member of the International Coleman Collectors' Club, shows off a gasoline-fired clothes iron, an artifact in his collection of pressurized-gas appliances. His extensive collection of Coleman lanterns — and gas lamps of other brands — line the walls of his Queensbury den. The Coleman Collectors' Club is holding its convention in Lake George this weekend, and is planning an expo on Saturday, plus a mass lantern light-up Friday, June 29 on the beach of the Georgian Resort.
Stories this photo appears in:

Enthusiasts of Coleman lanterns and other pressurized-gasoline appliances from all over the world will be convening in Lake George This weekend, and there will be an expo, seminars, and a mass lantern light-up on the shores of the lake.