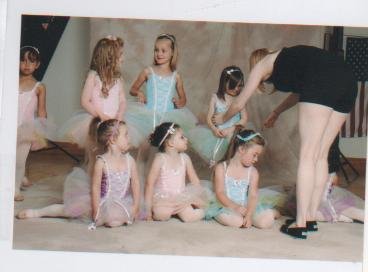 Dance instructor Jessica Foley works on posing a group of her younger students during a recent photo session at her new Hidden Talents Studio In the River Street Plaza in Warrensburg. Foley's enterprise fills a gap after the retirement of Florence LaPoint, who for decades annually taught more than 100 students and held recitals, drawing audiences that would pack the local school gymnasium, eager to watch the glitzy show-tune routines. Foley's Hidden Talents Studio will be holding its first season-ending recital at 12:30 p.m. Saturday June 30 in the Kenington Elementary School auditorium, Kensington Road, Glens Falls.
Stories this photo appears in:

Enterprise revives local tradition
Dance instructor Florence LaPoint's retirement years ago left a void in Warrensburg, and Jessica Foley is reviving the LaPoint tradition with her Hidden Talents Dance Studio, which is holding its first recital Saturday June 23.