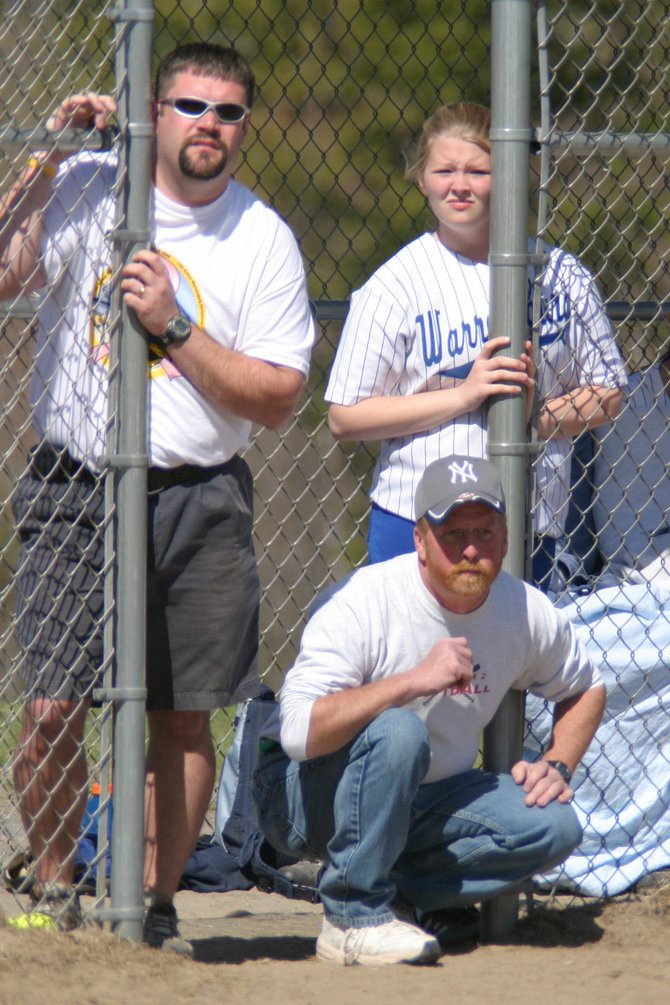 Brent Bertrand (front) watches a pitch during a Spring 2001 Warrensburg High School Varsity Softball game. He coached softball at the school for years, as well as serving as Technology instructor. Bertrand, 54, died Jan. 11, sending shock waves through the community. His wake is set for Friday Jan. 13 from 3 p.m. to 6 p.m. at Alexander-Baker Funeral Home on Main St. in Warrensburg. Behind Bertrand are Assistant Coach Brian Lemery and student Samantha Morehouse.
Stories this photo appears in:

The ever-optimistic Brent Bertrand inspired students he taught and coached to be thoughtful, caring, and to pursue their dreams. A large crowd of people were drawn to downtown Warrensburg to pay their respects Friday Jan. 13 at Bertrand's wake — he died unexpectedly Jan. 10 at his home.

An upbeat, inspiring Warrensburg teacher and coach — the beloved Brent Bertrand — inspired an outpouring of memories among students and faculty members following his unexpected, untimely death Tuesday morning.