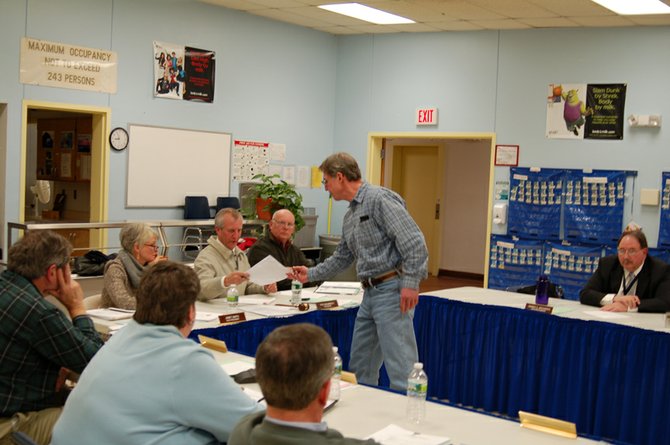 Former Lake Placid Middle/High School Principal Robert Schiller hands Lake Placid Central School Board President Phil Baumbach a petition of almost 600 names of people who are demanding that School Superintendent Randy Richards resign during the Feb. 21 meeting. Richards, seen at the far right, had admitted to and apologized for using inappropriate language when referring to female employees.
Stories this photo appears in:

Stories 10-6 of the year as voted on by Denton Publications staff

Former principal: I'll vote no on budget in protest
The mysterious recent exit of Principal Katherine Mulderig went unmentioned at the April 17 Lake Placid Board of Education meeting — until the time came for public comments, when the public unloaded on the board, repeatedly questioning the judgement of Superintendent Randy Richards and calling for his resignation or dismissal.

Executive session expected
The Lake Placid Central School Board of Education will hold another meeting today, most likely about embattled school Superintendent Dr. Randy Richards.

EEOC rules in favor of principal
Lake Placid Central School District Superintendent Randy Richards must go, and he must go now, according to hundreds of district residents.