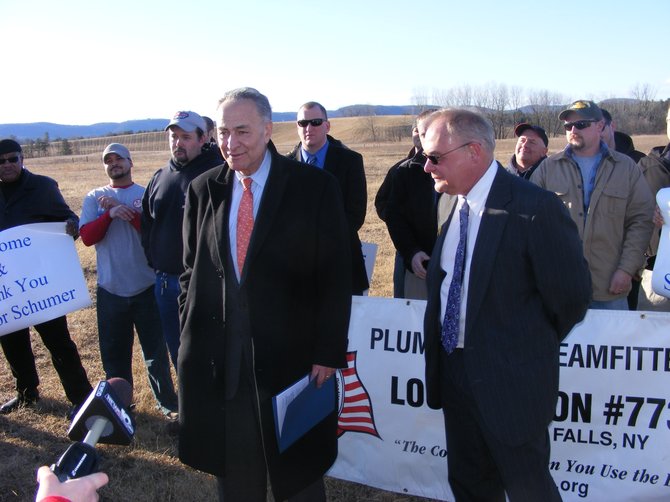 Backed up by steamfitters' union members, U.S. Sen. Charles Schumer (left) talks at a press conference Monday Feb. 20 about how he'll be lobbying for a federal grant of $750,000 to $1 million to bankroll technical training in hazardous materials cleanup, to be offered at the union's training center soon to be constructed in Tech Meadowsindustrial park in Queensbury. Glens Falls Mayor Jack Diamond (right), welcomed Schumer to the city-owned park.
Stories this photo appears in:

Training funds sought
Visiting a business park owned by the city of Glens Falls, U.S. Sen. Charles Schumer proclaimed Monday Feb. 20 that he'd be lobbying hard to obtain a federal grant to train workers in hazardous materials cleanup and other high-technology skills at a soon-to-be-constructed training center in Queensbury. The center is to be built by a pipefitters' union that represents workers from the Capital Region north to the Canadian border.