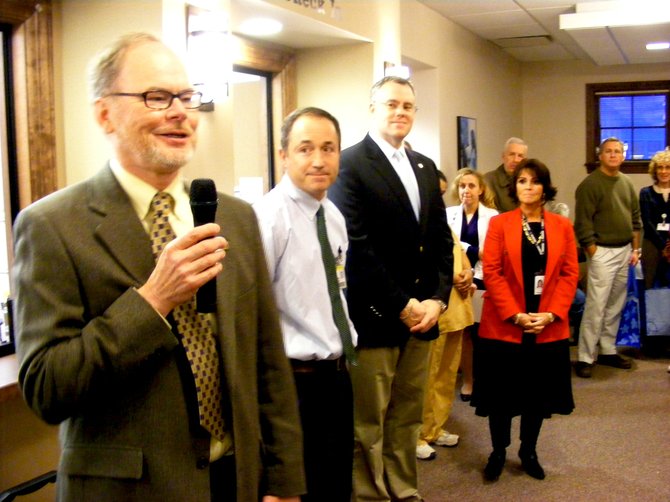 At the ribbon-cutting ceremony Jan. 26 of the new West Mountain Primary Care facility — Hudson Headwaters Health Network's latest health center — HHHN founder Dr. John Rugge (left) thanks others for making the center's development possible. Listening to Rugge talk are (foreground, left to right): West Mountain's medical director Dr. William Borgos, Queensbury Supervisor Dan Stec, and Kinney Drug President and CEO Bridget Hart.
Stories this photo appears in:

In the mid-1970s, Dr. John Rugge, a physician and outdoorsman who loved the rugged Adirondacks, came to Chestertown to establish a practice that took care of citizens' vital health care needs, regardless of their income. With community doctors leaving the area, Rugge's outreach soon expanded to Warrensburg, and Hudson Headwaters Health Network was born. In subsequent years, the chain expanded to more than a dozen health care centers spanning the lower Adirondacks. On Jan. 26, HHHN's latest health care center, West Mountain Primary Care, was christened, and area citizens hailed the development.