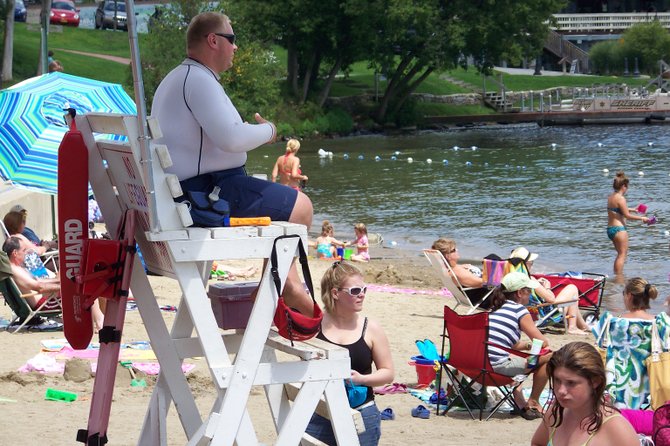 A lifeguard watches over swimmers this week at Shepard Park beach in Lake George. Although local lifeguards have monitored swimmers for decades without any major incident, the state Health Department is now requiring that the town of Lake George hire an Aquatics Director to preside over the beach activities when the youth in the town summer recreation program are swimming, athough certified lifeguards are already present.
Stories this photo appears in:

Lake George leaders were aghast when state officials in August classified the town's summer recreation program as a "summer camp" and imposed a set of onerous restrictions that threatened the program's existence. Now, the town board, local citizens and public school officials are working together to restructure and relocate the program to meet the mandates.

Medical Director really needed?
The state inspects the town of Lake George's youth summer recreation program, classifies their program as a "summer camp," and cites them for not having an official Aquatics Director and a Medical Director, which prompted consternation among town officials.