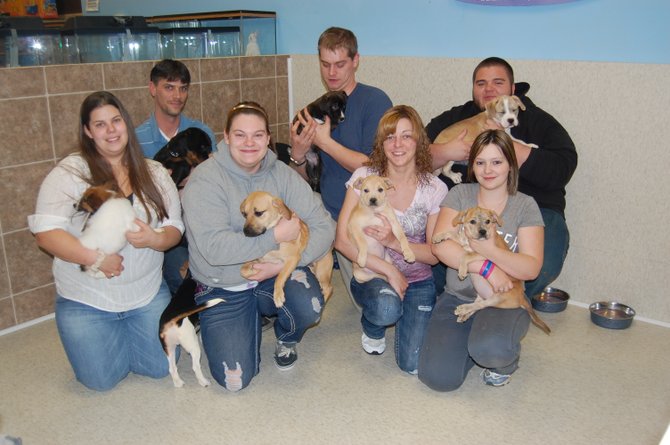 Front, from left to right are Laurissa Hebert, Maddie Bushey and Tammy Staley, standing in front of Mike Staley, Thomas Krause and Evan Liberty. The group stands inside the puppy pen at Northern Puppies. This photo was taken in the spring of 2012.

Stories this photo appears in:

Plattsburgh police are asking the public to help in the search for 6 sick and abandoned puppies in the Plattsburgh area. Police believe Michael Staley, husband of Northern Puppies Pet Store owner Tammy Staley, staged a robbery at the Northern Puppies store and abandoned 24 puppies around the Saranac area.
Northern Puppies pet shop owner Tammy Staley was arrested Wednesday, July 10 and charged with 20 counts of animal cruelty after police found sick and dead kittens in the back room of the store.

Store owner says claims are untrue
Tina Dashnaw Rock arrived at Northern Puppies at the same time as employee Sandra Barber made her way inside and the former snapped a photo of the puppy pen.