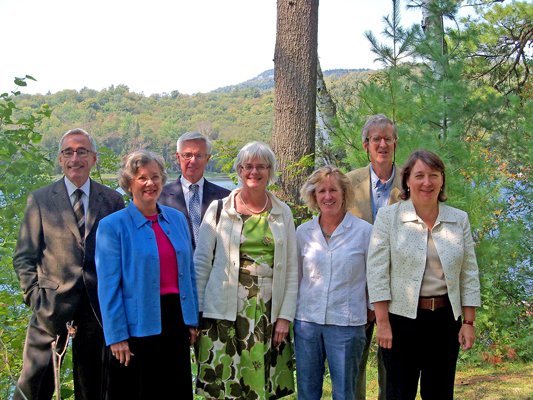 A donation of $2.4 million each to the Wild Center and Adirondack Museum was recently announced. Left to right are David Kahn, executive director of the Adirondack Museum; Caroline Welsh, director emeriti and senior art historian at the Adirondack Museum; Kevin Arquit, chairman of the Adirondack Museum board; Rebecca Foley, executrix of the Vaughan estate; Hilary McDonald, vice chair of the Adirondack Museum board; Lynn Birdsong, president of The Wild Center board; Stephanie Ratcliffe, executive director of The Wild Center.
Stories this photo appears in:

The Adirondack Museum in Blue Mountain Lake and Tupper Lake's Wild Center will each receive $2.4 million from the late Dr. Linda K. Vaughan, a Long Lake seasonal resident.