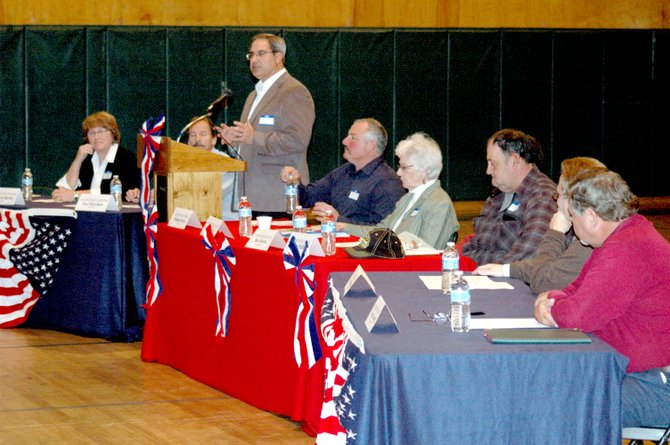 Denton Publications Publisher Dan Alexander, standing, moderates the Meet the Candidates Forum at the Elizabethtown-Lewis Central School with Essex County clerk, Elizabethtown supervisor and Elizabethtown town council candidates. Pictured, from left, are supervisor candidates Margaret Bartley and Noel Merrihew III; town council candidates Michael Doyle, Evelyn Hatch, Ben Morris (obstructed) and James Phillips; and county clerk candidates Joe Provoncha and Brent Vosburg.

Stories this photo appears in:

E-town Republican Committee hosts meet the candidates night
Each candidate was given a chance to introduce themselves and their platform, a period to answer questions from the audience, and a final statement. Each post was given their own block of time, with the most comment and audience participation happening during the portion of the evening dealing with the position of town supervisor.