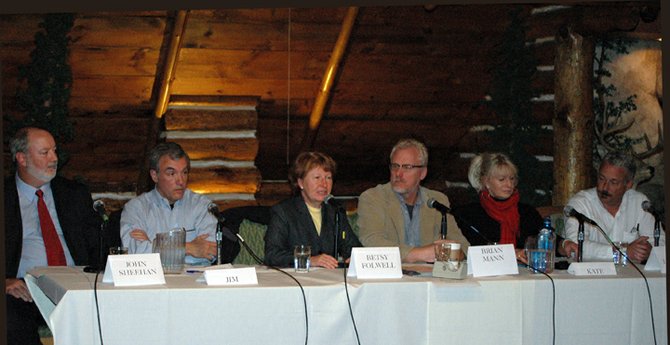 Panel members discuss the economic future of the Adirondack Park Oct. 5 at the Northwoods Inn in Lake Placid. From left are: John Sheehan, of the Adirondack Council; Jim Herman, of Keene; Betsy Folwell, of Adirondack Life magazine; Brian Mann, of North Country Public Radio; Kate Fish, of the Adirondack North Country Association; and Jim LaValley, of Adirondack Residents Intent on Saving Their Economy (ARISE) in Tupper Lake.
Stories this photo appears in:

Members of the media, economic development community and environmental organizations sat in front of a lean-to at the Northwoods Inn Wednesday, Oct. 5 to talk about the future of the Adirondack Park.