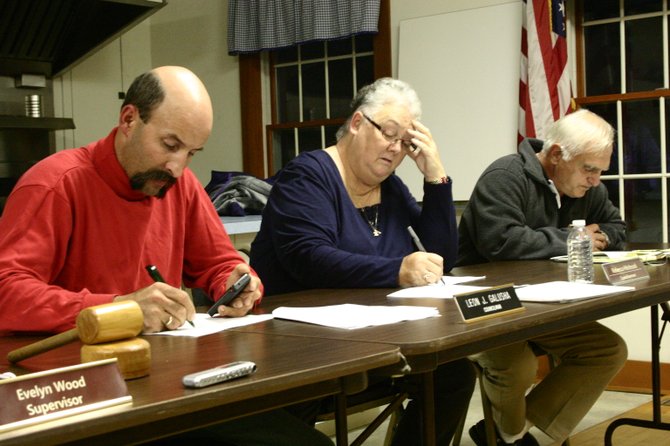 In Oct. 2011, Thurman Town Board members including Becky Hitchcock (center) work on drafting the 2012 town budget after a year of unprecedented financial pressures. Hitchcock, who died May 25, has been credited with bringing a moderate approach and cohesive influence to town politics during challenging times. Hitchcock is flanked by board members Leon Galusha (left) and Al Vasak (right).
Stories this photo appears in:

Thurman Town Board member Becky Hitchcock was devoted to helping others through volunteer efforts. Following Hitchcock's unexpected death Friday May 25, her devotion and diligence was recalled by friends and associates.

Thurman Town Supervisor Evelyn Wood presented a draft 2012 town budget Monday that called for a zero percent increase — and elimination of municipal garbage pickup and reduction in youth programs — but the Thurman Town Board reinstated these services and endorsed a tentative budget that calls for a 16 percent increase.