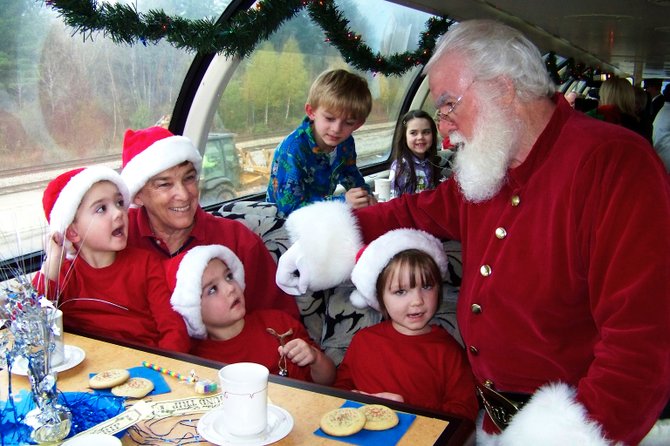 Santa greets Arlinda Birdsall and her triplet grandchildren Nick, Luke and Kate during a session kicking off the Saratoga & North Creek Railway's 2012 Polar Express excursions running from Nov. 15 through Christmas. The round trips to 'the North Pole' feature singing elves, dancing chefs and retelling of the classic children's holiday tale. This year, older children will have the chance to be chosen as Junior Conductors for one of the trips.
Stories this photo appears in:

The Polar Express holiday excursions on the Saratoga-North Creek Railway smashed records when introduced in 2011. They return this year with some special amenities, to be showcased at 1 p.m. Monday Nov. 11 at the Saratoga Rail Station. At the event, several youngsters will be chosen to be Guest Conductors, and Veterans and military personnel can pick up vouchers for free train rides on this popular scenic railroad.

Train Conductor Steve Conklin helped one pajama-clad child after another board a passenger car parked Thursday in the Saratoga Rail Station.