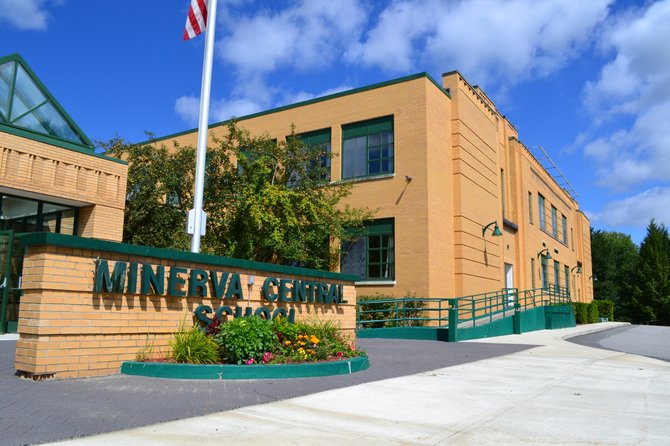 Stories this photo appears in:

A crowd of 19 Minerva citizens gathered at the Minerva Town Hall on Tuesday, April 29 to find out information and ask questions concerning the upcoming Minerva School District budget vote, set for May 20.

Voters Tuesday, June 18 approved the Minerva and Newcomb school budgets four weeks after they denied spending plans that exceeded the state's mandated tax cap.

The Newcomb and Minerva school districts are sharing more than sports teams this spring; they're sharing the pain caused by defeated school budgets.

Voters in the five True North school districts will be heading to the polls Tuesday, May 21 to choose school board candidates and decide whether to approve their 2013-14 budgets.

In preparation of the annual school budget vote on May 21, school officials in the True North districts are set to hold public hearings on their spending plans on May 13 and 14.

No school districts in the News Enterprise readership will have a contested race for the school board elections on Tuesday, May 21. However, there are some longtime board members who have decided not to run this year, particularly in Minerva and Long Lake.

The Minerva Central School community has a long-standing tradition of coming together for our students' success.
U.S. Department of State officials recently gave the Minerva Central School (MCS) approval to start an F-1 foreign exchange student program.

School officials in the region are making final plans for their upcoming graduation ceremonies.

All budgets pass, DeGroat and Richards win in Johnsburg
School district officials from around the region have reported results from budget votes and school elections that were held Tuesday, May 15.

School district officials throughout the region are asking voters to approve their proposed 2012-13 budgets on Tuesday, May 15.

During their April 19 meeting, Minerva Central School Board members approved the 2012-2013 budget.

Minerva Central School Superintendent Timothy Farrell began his report to the School Board March 8 by informing them of a new requirement under the Open Meetings Law to make various types of documents available prior to the meeting.

Though they've seen plenty of international students through sports and academic program sharing with Newcomb Central, the Minerva Central School is hoping to build international attendance in its own home rooms.