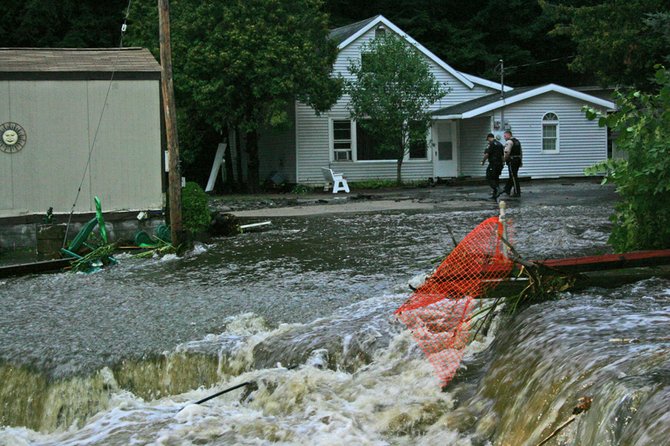 Wading through roiling floodwaters, Warren County Sheriff's officers knock at a door of a home in the "Big Hollow" off Rte. 9 north of Lake George village in an effort to tell residents to evacuate their home. Authorities said a nearby resident of a trailer (at left in photo) refused to leave, al;though floodwaters were tearing away at her trailer's foundation and running through her home
Stories this photo appears in:

It may take days to get power restored
As utility workers worked feverishly to repair dozens of downed power lines and burned-out transformers in the region damaged by Tropical Storm Irene — and Lake George Village remained without power — local municipal authorities met Monday morning to devise an emergency action plan. National Grid representatives said Monday morning the storm damage to power lines and equipment was so widespread in the region that most of the work was at this point primarily assessing the extent of the outage. They said that regionally, 120,000 households remained without power as of 9:30 a.m. Monday.

Many thousands without power
LAKE GEORGE — Hurricane Irene moved through the area Sunday, with its heavy persistent rains causing millions of dollars of damage to properties and roadways, while its powerful wind felled trees that brought down power lines, plunging tens of thousands of people into darkness.