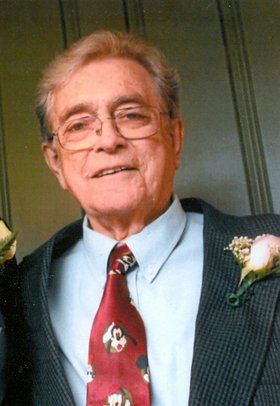 Theodore Joseph Jacques, Jr.
December 21, 1931 - March 25, 2014
Ticonderoga. Theodore Joseph Jacques, Jr., 82, of Ticonderoga, passed away on Tuesday, March 25, 2014, at his home surrounded by his loving family. He battled cancer for several years and the disease won.

Born in Penacook, New Hampshire, December 21, 1931, he was the son of the late Theodore and Emma (Damaris) Jacques, Sr.

Mr. Jacques was a veteran of the U. S. Air Force, having served in the 1950's during the Korean War. He spent two years of his military career in school in Boston studying aviation mechanics.

He was born in Penacook, NH and then lived in Manchester, NH for many years. After his first marriage and birth of his son, he moved to Hancock, VT to help his parents in their family diner.

In 1969, he relocated to Ticonderoga to become the Supervisor of Ticonderoga Central School Transportation. For more than 30 years, he held and enjoyed that job.

Ted was well liked and had a good sense of humor. He was a Mr. Fix It, and like a lot of men, he also cooked. He even baked pies, but soups and beans were his specialties. He had a large garden every year. He also made furniture, some for his home and some for friends.

In addition to his parents, he was also pre-deceased by a sister, Emma Jacques Dann.

He is survived by his wife of 35 years, Betty Elizabeth (Lyon) Jacques; one son, Theodore Jacques III and his wife, Danice of Hancock, VT; one step-daughter, Rhonda Garrow and her husband, Steve of Ballston Spa; one grandson, Christopher Dolloff and his wife, Rose of Scotia, and one great-granddaughter, Gabriella Dolloff; one brother, Larry Jacques and his wife, Judy of Hancock, VT; and one sister-in-law, Julie Daley of Frankfurt, NY. He is also survived by many nieces and nephews in New Hampshire, Vermont and New York.

At Ted's request, there will be no funeral services.

Donations in Ted's memory may be made to High Peaks Hospice, P.O. Box 192, Port Henry, NY 12974.

Arrangements are under the direction of the Wilcox & Regan Funeral Home of Ticonderoga.