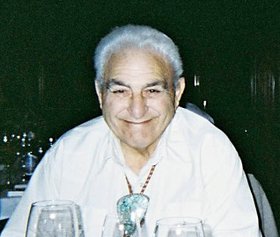 Nunzio Anthony Zago
July 30, 1929 - March 7, 2014
Nunzio Anthony Zago passed away in Yuma Arizona on March 7, 2014. He was born on July 30, 1929 to the late Guiseppina and Emanuele Zago. Tony is survived by his wife Kathy, his sister Jean and his five nieces; Pamela, Donna, June, Carol and Joan, as well as five other children who adopted him as a father; Edward Dolback, Cheri Anderson, Danne Dolback, Ann Jordon and Jennifer Sylvia. He is predeceased by his sister Josephine.
Tony worked for ATT - New York for 36 years and retired in 1989 spending the next 23 years touring the country via motor home. He settled in Yuma Arizona in 2013.
The Inurnment will be in Maggie Valley, NC and in Ticonderoga, NY at a later time.
Contributions can be made to the Ticonderoga, NY Knights of Columbus or Elks where Tony was a member for over 50 years.