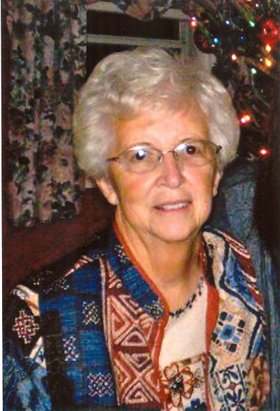 Joyce Ann Forgette
July 30, 1935 - March 11, 2014
Ticonderoga. Joyce Ann Forgette, 78, of Ticonderoga, passed away on Tuesday, March 11, 2014 at Heritage Commons Residential Healthcare of Ticonderoga, surrounded by her loving family.

Born in North Hudson, July 30, 1935, she was the daughter of the late Glen S. and Mable (Trudeau) Greenough, Sr.

Joyce was a graduate of Schroon Lake High School. She has been a resident of Ticonderoga for many years and was a communicant of St. Mary's Catholic Church of Ticonderoga, and a member of the Catholic Daughters.

She was employed by Terry Butler at the former Fabric Shop in Ticonderoga for many years. Her work as a seamstress was always meticulous and very creative. Her dress-making and quilting were completed to perfection.

She was pre-deceased by her husbands, Frederick "Red" Maye and Alcid Forgette. She was also pre-deceased by her sister, Shirley Moses and brother-in-law, Roy Moses.

Survivors include her seven children, Alan Forgette and his wife, Judy of Putnam Station, Anne DeLair and her husband, Joel, Barbara Cossey and her husband, Douglas, Jeanne Bennett and her husband, Rick, Donnie Maye and his wife, Annette, Denise Smith and her husband, Tracy, all of Ticonderoga, and Jimmy Maye and his wife, Julie of Argyle; her brother, Glen Greenough, Jr. and his wife, Mary Lou of Ticonderoga, and two sisters-in-law, Rita Gordon of Whitehall and Patricia Forgette of Hague. She is also survived by many grandchildren, great-grandchildren, nieces and nephews.

Relative and friends may call Friday, March 14, 2014 from 4 - 7 p.m. at the Wilcox & Regan Funeral Home, 11 Algonkin St., Ticonderoga.

A Mass of Christian Burial will be celebrated Saturday, March 15, 2014 at 10:30 a.m. at St. Mary's Catholic Church of Ticonderoga. The Rev. Kevin D. McEwan, Pastor, will officiate.

The Rite of Committal will take place in the spring at the family plot of the Ironville Cemetery of Crown Point.

Donations in Joyce's memory may be made to the Ticonderoga Emergency Squad, P.O. Box 265, Ticonderoga, NY 12883.