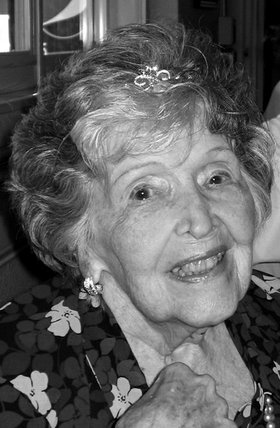 Theresa Catherine P. McLean
June 25, 1911 - February 21, 2014
TARPON SPRINGS, FL and STONY CREEK, NY. Theresa Catherine P. McLean, 102, passed away with loved ones by her side on Friday, Feb. 21, 2014, in Tarpon Springs.
Born on June 25, 1911, to Frank H. and Theresa (Nolan) Phelan in New York City.
She attended New York City schools, entering employment with New York Telephone at the age of 15 and continuing high school education through the company. Working at the New York Jockey Club at the Empire State Building on the 82nd floor where she had met many celebrities. She worked for the Long Island Lighting Company as a supervisor until retiring in 1976, whereupon she moved to Stony Creek, NY to be near her family wintering in Palm Harbor, FL.
She was an early pioneer of the independent woman. She was very adventurous, loved to travel. She was very conscious of the feelings of others and would go out of her way to accommodate everyone. She was amazed at how the family had grown and loved all her grandchildren and great-grandchildren. She will be missed.
She was predeceased by her parents, husbands, Warren F. James Law, John F. Slattery and Robert McLean; a son, James Lawrence Slattery; a sister, Beatrice Phelan, Lilly Phelan; a brother, Frank J. Phelan.
Theresa is survived by her son, Warren F. Law and his wife, MaryAnn of Stony Creek, her grandchildren, Theresa Mary Farrell (Patrick) of South Glens Falls, Warren John Law and his fiancee, Kirsten Kyrwy of Queensbury, Kendra Ann Law-Snelling (David) of New Port Richie, Fla., and Jason Francis Law (companion Emer Geraghty) of Albany; her great-grandchildren, Jacob B. Law, Jonathan W. Law, Justin R. Law, McKenna Kyrwy, Nicholas J. Farrell, Jenna E. Farrell, Ethan R. Bain (Law); two sisters, Edith Anderson of Manchester, Conn., Geraldine Bachteller of Oldsmar, Fla.; two brothers, Lawrence Phelan of Safety Harbor, Fla. and Donald Phelan; several nieces and nephews.
Spring burial will be in Knowlhurst Cemetery, Stony Creek.
Contributions in Theresa's memory may be directed to the Wounded Warrior Project, P.O. Box 758517, Topeka, KS 66675; to the Stony Creek Library, Stony Creek, NY 12878 or to the Stony Creek Volunteer Fire Department, Stony Creek, NY 12878.