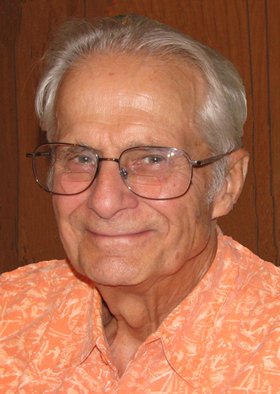 Warren Wonnick Leigh
August 28, 1928 - March 2, 2014
Warren Wonnick Leigh, age 85, of 4 West Main Street, Bloomingdale, died peacefully at home surrounded by his loving family on Sunday, March 02, 2014.

Born in Freeport, New York on August 28, 1928, he was the son of Wonnick and Elsie (Mader) Leigh. Warren married Kathryn D. Ford on July 2, 1951 in Freeport, NY.

Warren retired from the United States Army as a Lieutenant Coronel in 1979. He served in the United States Army from 1963 to 1979 at various bases throughout the World and is a two time veteran of the Vietnam War. He served from 1963 to 1965 in Heidelberg Germany at the USAEUR headquarters, 1966 to 1967 Vietnam in the 1st DET, A, MIBARS, 1967 Philadelphia 109th Intel group, 1968 to 1969 Vietnam 24th Corp., 1969 to 1975 in Heidelberg Germany, ODCSI at USAEUR Headquarters, and 1975 until his retirement in 1979 in Munich with the 66th MI Group, Warren received various medals and commendations throughout his career including the Bronze Star medal and Presidential Unit Citation. Following his retirement he moved to Bloomingdale, NY and had been employed by Paul Smith College at the Hotel Saranac for several years. Warren was a member and past president of the Lions Club in Newark, NJ and had served as a volunteer for the 1980 Winter Olympics. He enjoyed food, wine, gardening, making maple sugar, traveling and later served as an official for the Hudson River White Water derby. He also enjoyed hunting, spending time at Garnet Lake, and was a forestry Co-op master.

He is survived by his wife of 62 years Kathryn Leigh of Bloomingdale, one son Warren Leigh and his wife Regina of Springfield, MA, two daughters Kathryn Steinbrueck and her husband Roger of Saranac Lake and Pamela Frazier and her husband Steven of Winsted, CT, six grandchildren Sean Steinbrueck and his wife Cari, Steven Frazier and his wife Amy Sotherdon, Michelle Hintz and her husband Kenneth, Gabriella Chircop and her husband Matt, Nicholas Leigh, and Madeline Leigh, four great grandchildren Kenneth Hintz, Savannah Hintz, River Frazier and Coral Eve Frazier and many niece and nephews. He was preceded in death by his father, mother, one daughter Donna Leigh in 1960, two brothers Russell and Edgar Leigh and one sister Myrtle Leigh Mellon.

Calling hours will take place at the Fortune-Keough Funeral Home on Friday, March 7, 2014 from 4:00 PM to 7:00 PM. A funeral service will be held at 11:00 AM on Saturday March 8, 2014 at the Lutheran Church of the Holy Trinity (located at the First United Methodist Church), with Rev. Eric Olsen officiating. Burial will take place at Saratoga National Cemetery on Monday.

Friends wishing to remember Warren Wonnick Leigh may make memorial contributions to Saranac Lake Free Library or High Peaks Hospice in care of the funeral home. Family and friends can also share their memories and sign the online guestbook at fortunekeoughfuneralhome.com.