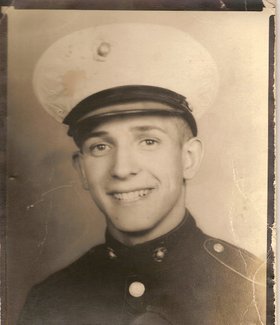 Norman A. Barror, Sr.
February 6, 1926 - March 2, 2014
Norman A. Barror, Sr., age 88 years, of Coxsackie, passed away on March 2, 2014.
He was born on February 6, 1926 in Moorers Forks NY and was the son of the late Joseph and Emma (Snide) Barror.
He is survived by his loving wife of 65 years, Florette, two daughters Eva Rider (Joe) and Brenda Darling (Mark), four sons Tim (Mary Anne) Randy (Nancy), Glen (Phyllis) and Joel. He is also survived by his twin sister Norma Loughan and sisters Rita Rossi and Joan Barror. He is also survived by his 11 grandchildren Christopher (Alisa) Barror, Erica (Whitney)Reed, Joseph Rider, Jr., Michelle (David) Velsmid, Matthew (Amanda) Rider, Suzanne (Phillip) Massaro, Jennifer (Michael) Krstovich, Rory (Dee) Barror, Steven Carney, Ashley Barror and Kyle Barror, and 19 great grandchildren one great great grandchild and many nieces and nephews.
Besides his parents, he is predeceased by a son Norman Jr. and brothers Richard and Gerald.
Norman relocated to Coxsackie in 1965. As a teenager, Norm worked in the mines in Mineville, NY and at 17 joined the Marine Corps, serving during WWII mainly in the South Pacific including Iwo Jima, Saipen and Tinian. After the war he settled in Newcomb, NY with wife Florette Blanchette and was employed as a construction superintendent for I & OA Slutzky building many schools, hospitals, bridges, etc. He was a communicant of St. Marys Church, Coxsackie.
Mass of the Christian Burial will be celebrated on Thursday, March 6, 2014, at 10:00 AM at St. Marys R.C. Church, Coxsackie, with Rev. Fr. John Moyna, The Celebrant.
Interment will take place in the springtime in the family plot of The St. Marys Parish Cemetery, Coxsackie, with full military honors.
Contributions in his memory may be made to Community Hospice, 47 Liberty Street, Catskill, NY, 12414.
Condolences may be made at www.wcbradyssonsinc.net.