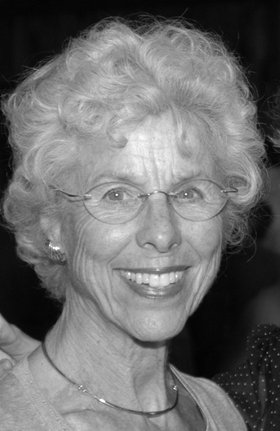 Gloria Whitney Burger Singer
Burlington, VT
October 27, 1928 - February 26, 2014
Gloria Whitney Burger Singer, 85, of College Street in Burlington, Vermont, died on February 26, at FAHC, from a head injury suffered after a fall on February 19.
Gloria was born on October 27, 1928, in Yonkers, New York, the daughter of Margaret Roberts and Norman Chapman Burger. She was a 1946 graduate of Scarborough School, Scarborough, New York, where, in the eighth grade, she met her future husband, George. They were married in Zion's Episcopal Church in Dobbs Ferry, New York, on June 23, 1950.
After graduating from the American Academy of Dramatic Arts in 1948, Gloria had parts in several Broadway plays and pursued an active modeling career in New York City.
Always an outgoing and community-oriented volunteer, Gloria was a member of the Tarrytown, New York, Junior League, 1959-61, and the Bedford, New York, Junior
League, 1961-68. For many years, she worked to establish a halfway house for recovering alcoholics in Westchester County.
In 1971 Gloria, her husband, and three children moved to Burlington, Vermont. From 1972 to 1978 she was a member of the Chittenden County Alcohol and Drug Council; 1978-82 District Advisory Council of the Vermont Health Policy Corp; 1978 St Paul's Cathedral Bazaar, co-chairman; 1976-80 United Way Board; 1980-88 Medical Center Hospital Associates Board; 1988-9 Flynn Theater Restoration; 1988-2000 RSVP Advisory Council, co-chairman PR and Fundraising; 1985-2005 Meals on Wheels; 1991-3 Junior Service League; 1993-2004 St Paul's Cookbook Committee; 2008-13 All Saints Church Bazaar, co-chairman; 2008-14 Downtown at Home Steering Committee.
An avid and accomplished skier, Gloria and her family skied at Mad River Glen from the early 1960s. She enjoyed watching her children and grandchildren ski race. She was a member of the Amateur Ski Club of New York City. Gloria was an active member of the Burlington Duplicate Bridge Club and The Neighbors, a play reading club. In 1978 she was elected to the Klifa Club. With her husband, George, she owned and operated the Ashley Book Company, an antiquarian book business.
Born with a "green thumb," Gloria was an avid gardener. She kept a selection of flowering plants in her Burlington apartment, but her true love was the gardens she created at her summer home in Ticonderoga, New York, on Heart Bay, Lake George. She was a member of the Northern Lake George Yacht Club for nearly 65 years and served on the board and various committees.
Gloria is survived by her husband, George, a retired stock broker, her three children, Lauren (Peter Waite), Robert (Jana Vaksdal), and Margaret (Michael Huffman). She leaves nine grandchildren, Hillary (Brendan Condit), Christopher, and Hannah Waite; Hans, Isabel and Nina (twins) Singer; Peter, Samuel, and George Huffman; and a great-grandson, Kai Condit. She also leaves her sister, Sybil Burger Richards of Hawthorne, NJ, and her cousin, William J. Burger of Pine Grove, California.
A memorial service will be held at All Saints Episcopal Church in South Burlington at 1 pm on Saturday, March 8, 2014. A reception at the Burlington Country Club will follow. All her friends are invited. In lieu of flowers, memorial contributions may be made to Maple Leaf Farm, a residential alcohol and drug abuse treatment center, 10 Maple Leaf Road, Underhill, VT 05489.