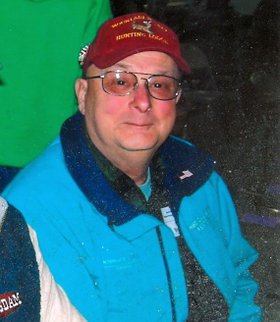 Edward L. Vradenburg
Ticonderoga, NY
July 2, 1936 - February 21, 2014
Ticonderoga. Edward L. Vradenburg, 77, of Ticonderoga, passed away on Friday, February 21, 2014, surrounded by his loving family.

Born in Ticonderoga, July 2, 1936, he was the son of the late Louis and Elizabeth (Desjadon) Vradenburg.

Mr. Vradenburg was a lifelong Ticonderoga resident. He was employed by the International Paper Company in Ticonderoga for 43 years and was a member of the Company's Quarter Century Club.

He served as Assistant Scout Master for 32 years for Boy Scout Troop # 71 of Ticonderoga.

Mr. Vradenburg enjoyed spending his free time in the outdoors. He was a charter member of the Mountain Musket Hunting Lodge, a member of the Black Powder Shoot, an avid fisherman and camper, and he especially cherished his time with his family.

He is survived by his wife of 54 years, Thelma Jean (Phillips) Vradenburg; one daughter, Robin Trudeau and her husband, Doug and one son, James Vradenburg and his wife, Angela, both of Ticonderoga; four brothers, Thomas Vradenburg and Frederick Vradenburg, both of Ticonderoga, Donald Vradenburg of Tennessee, and William Vradenburg of Arkansas; and four sisters, Elizabeth Mason, Patricia Blowers, Mary Gonyo, and Jane (Toot) Wright, all of Ticonderoga. He is also survived by four grandchildren, Todd Trudeau, Corey Trudeau, Megan Vradenburg and Sara Vradenburg; one great-granddaughter, Michelle (Mia) Therrien; and many nieces and nephews.

He was pre-deceased by one sister, Marion "Peanut" Messier.

There will be no funeral services.

Donations in Mr. Vradenburg's memory may be made to High Peaks Hospice, P.O. Box 192, Port Henry, NY 12974 or the Ticonderoga Emergency Squad, P.O. Box 265, Ticonderoga, NY 12883.

Arrangements are under the direction of the Wilcox & Regan Funeral Home of Ticonderoga.