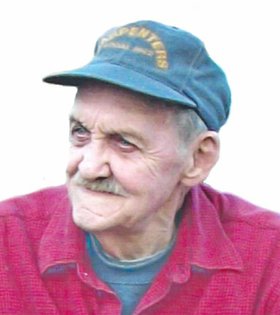 Benjamin Stoddard
Crown Point
April 20, 1932 - January 22, 2012
Benjamin "Ben, Buddy" Stoddard, 79 of Crown Point passed away on Sunday, Jan. 22, 2012, at the Moses Ludington Nursing Home Rehab Center after a long illness.
Born in Moriah on April 20, 1932, he was the son of the late Benjamin F. Stoddard and Agnes (Seckington) Stoddard.
Benjamin attended Crown Point Central School and was a veteran of the United States Seabees having served during the Korean War. He was a member of the American Legion local Post # 0224 in addition, he enjoyed hunting and fishing as hobbies for many years.
He was employed for 19 years at the International Paper Company a welder. After working for many years in construction as a union member of the Carpenters Local 1042 out of Plattsburgh. He retired spending time watching his favorite team the New York Giants and taking meticulous care of his garden and home.
Benjamin was predeceased by his wife Gloria (Graham/Sweet) Stoddard who he was married to for over 50 years. Also a nephew Richard Bailey and his niece Maureen Haran.
He is survived by his children, Steven and (Chris) Stoddard of Essex Junction, Vt., Gail and (Mitch) St. Pierre of Crown Point, Tarrye and (Gary) Henry of Winslow, Maine, and Jeana and (Bill) Bradford of Addison, Vt. He is also survived by his sisters Shirley Bailey of Crown Point and Rita and (Fran) Bodzinski of Belchertown, Mass., as well as 13 grandchildren and several great grandchildren, nieces and nephews.
Calling hours were held for relatives and friends on Wednesday, Jan.2, from 10-11 a.m. at the Harland Funeral Home in Port Henry. A funeral service followed directly at 11 a.m. at the funeral home.
The family wishes to extend special thanks to the Moses Ludington Nursing Home staff for the care that he received during his stay at the center.