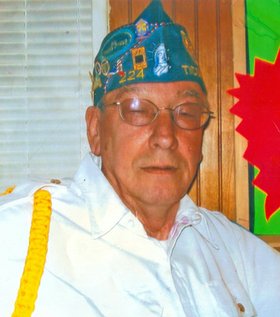 Edward H. Jordan
Ticonderoga
December 12, 1944 - January 9, 2012
Edward H. Jordan, 67, of Ticonderoga, passed away on Monday, Jan. 9, 2012, at the Glens Falls Hospital.
Born in Ticonderoga, Dec. 12, 1944, he was the son of the late James Jordan and Katherine (Crossman) Jordan Slater.
Mr. Jordan was a lifelong resident of Ticonderoga and was employed by R. B. Motors of Ticonderoga for 27 years. 
He was a member of the American Legion Post # 224 of Ticonderoga.
In addition to his parents, he was also pre-deceased by one grandson, Dayton Jordan, and one great-grandson, Andrew.
He is survived by his wife of 44 years, Nancy L. (Ball) Jordan; three sons, Edward Jordan and his wife Michelle, Scott Jordan and his wife, Cassie, and Darcy Jordan and his wife, Kim, all of Ticonderoga; two brothers, Henry Jordan and his wife Debbie, and Chip Slater; and one sister, Kathy Slater all of Ticonderoga. He is also survived by eight grandchildren, Shawna, Matt, Britany, Kody, Magan, Jacob, Haylie and Lorelie; four great-grandchildren, Marick, Garrett, Gavin and Damion; and many nieces and nephews.
The family would like to extend special thanks to Kathleen and Jerry Taylor for all their dedication in helping Ed travel back and forth to Glens Falls for his treatments.
Relatives and friends called Thursday, Jan. 12, 2012, from 4 - 6 p.m. at the Wilcox & Regan Funeral Home, 11 Algonkin St., Ticonderoga.  A funeral service followed at 6 p.m. at the funeral home.
Interment will take place in the spring at the family plot of the Mt. Hope Cemetery of Ticonderoga.
Donations in Edward's memory may be made to the C.R. Wood Cancer Center, 100 Park Street, Glens Falls 12801 or the American Legion Post # 224, 140 Montcalm St., Ticonderoga 12883.