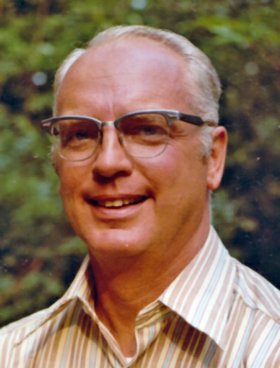 Karl E. Krauss
Queensbury
August 3, 1929 - January 2, 2012
Karl E. Krauss, 82 years, of Queensbury, passed away Jan. 2, 2012 following the consequences of the blood disorder MDS (Myelodysplastic Syndrome). Karl, I am certain would wish us to acknowledge with great appreciation the support of his family, his church family and a group of special senior friends identified generally as the original "Over-the-Hill Gang."
Born Aug. 3,1929 in Albany, he was the son of the late Karl Edward Krauss and Florence Ester (Connor) Krauss.
Karl is survived by his wife of 37 years, Yvonne E. (Bonnie) Kelly Krauss, and four daughters: Diane Clarke and her husband, Paul Clarke of Schenectady; Susan Guhin of Guilderland; Carol Martell and her husband, Larry Martell of Santa Fe, N.M.; and Amy Zanghi and her husband, John of Queensbury; by nine grandchildren: Emily Barr of Hoosick Falls, Amanda Barr of Albany, Adam Guhin and his wife, Jennifer Guhin of Rome, Aaron Guhin and his wife, Katherine Guhin of Kingsburg, Calif., Nathan Moody and his wife, Tara Moody of Wesley Chapel, Fla., Kelly Matney and her husband, Luke Matney of Albuquerque, N.M., Christina Roka of Albuquerque, N.M., Nicole Zanghi and Jessica Zanghi of Queensbury; also four great grandchildren: Viveca Barr of Schenectady, Kyle Moody and Julia Moody of Wesley Chapel, Fla., and our recent arrival, Michael A. Guhin of Rome. Karl is further survived by a brother, Paul G. Krauss and his wife, Nancy Krauss of Wilmington, N.C., two nephews, Daren Krauss and his wife, Elizabeth Krauss of Auburn, Calif., and Andrew Krauss and his wife, Mumtaz Krauss of Pakistan; by two grand nephews and a grand niece, Aiden Krauss of Auburn, Calif., Mekayl Krauss and Elinya Krauss of Pakistan.
Also surviving are three step-children, James Gilbo of Port Henry, Richard Gilbo and his wife, Nok of Centreville, Va., Melissa Charboneau and her husband, Andrew Charboneau of Ausable Forks; four grandsons; Jason Gilbo and his wife, Jenny Gilbo of Great Falls Mont., Matthew Charboneau of Ausable Forks, Matthew Frost of Huntsville, Ala., Joseph Michael of Raleigh, N.C., and two great grandsons, Carson Gilbo and Owen Gilbo of Great Falls, Mont.
In recent years Karl has served on the Board of DHHOA; for 13 years prior Karl and Yvonne jointly managed the landmark Sunshine Corner in Ticonderoga and during the prior 25 years, Karl managed the manufacture and sale of construction materials from the by-products of Republic Steel Corp. at Mineville and National Lead Co. at Tahawus.
Karl and Yvonne presently attend Durkeetown Baptist Church, Fort Edward, where they have been members for the past 13 years since leaving Ticonderoga.
There are no calling hours scheduled.
A memorial service for family and friends will be announced at a future time.
Burial will take place at a later date at Pine View Cemetery, Quaker Road, Queensbury.
Donations in Karl's memory can be made to Durkeetown Baptist Church, C/o Gideon Bible Fund, 2 Durkeetown Rd, Fort Edward, NY 12828.
Online condolences can be made to the family by visiting www.sbfuneralhome.com.
Arrangements are under the direction of Regan & Denny Funeral Home, 53 Quaker Rd, Queensbury.