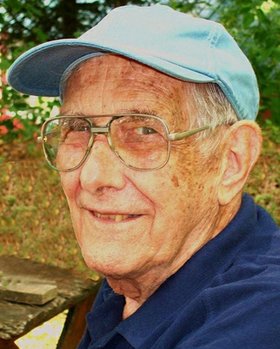 Ira Herbert Potter Jr.
Elizabethtown
June 13, 1915 - January 7, 2012
Ira Herbert "Herb" Potter Jr., 96, died peacefully in his sleep Saturday, January 7, 2012, at the Horace Nye Nursing Home in Elizabethtown.
He was born June 13, 1915, the son of Ira H. and Mary (Cauraugh) Potter Sr. in Boston, Mass.
Herb was married to the late Etta L. (White) Potter of Westport, for 66 years.
He grew up in Lake Placid, where his family had several pharmacies in the 1920's and early 30's. Herb graduated from Lake Placid High School in 1934 and from the New York State Ranger School at Wanakena in 1941, where he was class president.
Herb received an Associate Degree in Forestry from the SUNY College of Environmental Science and Forestry at Syracuse, N.Y. in 1974 and holds an Associate in Science Degree from Cayuga Community College in 1981.
He began his working career as an assistant education advisor in the Civilian Conservation Corp from 1934-1937. He worked as a surveyor and timber cruiser for the U.S. Forest Service from 1937-1940 in Maryland, New York State, and West Virginia.
In April 1942, Herb was employed as an electronics technician with the American Telephone and Telegraph Company, Long Lines Division, where he worked for 35 years.
Over the years, he was a known as an expert "trouble shooter" in Binghamton, Rochester, Syracuse, New York City, Buffalo and Boston.
Highlights of his career included many technical projects including re-writing testing and training manuals for long distance cables, building radar and communication networks for the U.S. Air Force on the DEW Line in the Aleutian Islands, Alaska in 1958-1959 and maintaining radar and microwave communications equipment with Europe at the Andover Earth Station in Maine for the Telestar project, America's first communication satellite which was launched 1962.
He brought up his family in Newark, New York State and retired in Elizabethtown, in 1977.
During his retirement years, he was an emergency medical technician on the Elizabethtown-Lewis Rescue Squad 1975-1985 and was a past master of the Wadhams Grange of the Order of Patrons of Husbandry. Herb was an advisor for the local council for the Office For The Aging and former deacon at the United Church of Christ.
Herb was a life member of the F&AM Lodge 83, Newark, where he was high priest. in 1955. He also was a member of the F&AM Lodge 602, Elizabethtown. He received a Dedicated Service Award in 1988.
He was a longtime ham radio operator with the low-call letters W2TDD. He got his ham radio license in 1939. He was the liaison between the Essex County ham radio operators and the New York State Emergency Management System.
Herb had many outdoor hobbies and enjoyed many days relaxing with family and friends at his camp on Lincoln Pond.
He is survived by one son, Ronald "R.J." Potter and his partner Dr. Alice Wright of Milton, Vt.; one daughter, Nancy Lee and her husband Robert Dobbs of Victoria, British Columbia; two grandchildren, Curran Dobbs of Victoria, British Columbia and Ananda Dobbs Umar and her husband Bobbie of Toronto, Ontario; and two great grandchildren, Nyal and Ryah Umar.
A memorial service will be held at the United Church of Christ in Elizabethtown, to be announced later in April.
Memorial donations may be made to the Keene Valley Neighborhood House, P.O. Box 46, Keene Valley, N.Y. 12943.
W.M. Marvin's Sons, Inc. of Elizabethtown is in charge of arrangements.
To send online condolences, please visit www.wmmarvins.com.