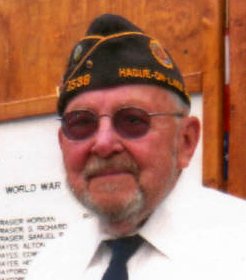 Vincent Jones
Hague
unknown - September 23, 2011
Sept. 23, 2011
HAGUE — Vincent Jones, 91, died unexpectedly early Friday morning, Sept. 23, 2011, of a heart attack at home.
Vin grew up in Englewood, N.J., the son of Lithuanian-born Veronica and Charles. He attended Englewood High School where he met the love of his life for the next 75 years, Mina McKee.
Soon after graduating, he joined the military and proudly served in the U.S. Army Infantry 89th Division under General Patton. He fought in the Battle of the Bulge and was in the first wave of infantry men to cross the Lorraine River in rubber rafts into Germany. Two-thirds of the men were killed that day, and he was never able to recall the actual crossing. He only remembered boarding the raft and landing on the other side. Vin was also part of the first wave of infantry men to liberate Dauchen, the first concentration camp to be entered by the Allied Forces. He recalled the shock and disbelief of all who were involved during the liberation including General Patton and General Eisenhower. Vin was awarded the combat infantry man's badge and was proud of the hardship that he endured fighting in the war..
After the service Vin worked as an officer for the N.Y./N.J. Port Authority then later in his life as a real estate broker and a co-owner of Four Star Realty in Bergenfield, N.J. He raised his family in nearby Tenafly, N.J. Vin and Mina retired and moved to Mina's family home on Graphite Mountain Road in Hague. Mina's mother, Isabel Rand McKee, and father, Arthur McKee, were both born and raised in this area. Soon after they settled in Hague, Mina fell ill with cancer. Vin cared for her for the following 20 years until her death in 2010.
Although spending much time taking care of Mina, Vin was very active in the Hague community. He was both treasurer and secretary of the American Legion for 17 years giving up that position only two days before he died. He was instrumental in making the Hague Veterans Memorial Park a reality. It will be dedicated this Veterans Day.
Vin was an avid golfer and played almost daily until his last day of life. He lived a full and active life until the end. He will be remembered for his passionate devotion to Mina, his love of golf and truly for his love of all things from his small dogs, the raspberries he tended to all the people in his life.
Vin leaves behind his daughter, Sandra (of Hague), his son, Vince (of Tenafly), six grandchildren and two great-grandchildren.
There will be a memorial service on Saturday, Oct. 15, at the Hague Volunteer Fire Department at the corner of Highway 8 and West Hague Road. In lieu of flowers donations can be made to the Hague Volunteer Fire Department.